Custom club fitting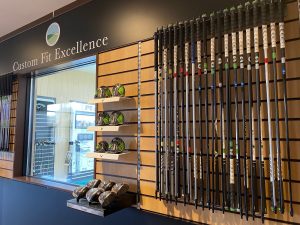 Expert golf advice
Our PGA qualified pros are perfectly placed to give you the correct impartial advice as to what products will best suit your game, technique and to give you a full assessment of your player profile. No matter if you are an accomplished player or a beginner, selecting the right set of clubs is one of the most important decisions you will make towards improving and enjoying your golf.
Q. Why get fitted for golf clubs?
A. Every single person is a different shape/size and has a different swing. If you are using clubs that are incorrect for your swing, you are making this difficult game even harder for yourself. The wrong length or flex of shaft, for example, will cause lack of distance and decrease in accuracy. Getting fitted for a set of clubs built to your own personal specifications will help you control your distance and also increase the accuracy of your shots.
Q. Will having custom fit golf clubs improve my game?
A. 92% of golfers who have been custom fit using a launch monitor have seen an immediate benefit after buying new clubs. (statistic: foresight sports)
Q. How do I know I'm getting the best golf clubs for me?
A. Here at Winchester Golf Academy we use GC2/HMT technology as well as Toptracer tracking to get precise data from the ball and the club to make sure you are getting the clubs that work the best for you. We will make sure we fit you with the club that not only you like the feel of the most but also the one that performs the best for you.
Q. What clubs do I need custom fit and how long does it take?
A. We fit everything from the green to the tee. We have 5 different fitting packages that range from a putter fitting that lasts 30 minutes to a full bag fitting that will last 2 hours.
If you would like to book in for your custom fitting, please call us on 01962 885254 or come in store and book in at the front desk.
.
Full Bag
2 hour appointment includes
£80
Player profiling
Tea & coffee
Fitting your ideal combination of clubs
Video analysis
Club distance analysis
Golf ball fitting
BOOK NOW
*£70 package fee refund & W.G.A goody bag upon placement of order
Irons
90 minute appointment includes
£60
Player profiling
Tea & coffee
Fitting your ideal combination of clubs
GC2 custom fitting technology & Video analysis
Club distance analysis
Golf ball fitting
*£50 package fee refund & W.G.A goody bag upon placement of order
Drivers & Woods
60 minute appointment includes
£40
Player profiling
Tea & coffee
GC2 custom fitting technogly
Video analysis
Club distance analysis
Golf ball fitting
*£30 package fee refund & W.G.A goody bag upon placement of order
Wedges
45 minute appointment includes
£30
Player profiling
Warm up with coaching points
Fitting your ideal combination of clubs
GC2 custom fitting technology & Video analysis
Club distance analysis
Record of your distances to keep
*£20 package fee refund & W.G.A goody bag upon placement of order
Club Gapping
45 minute appointment includes
£30
Player profiling
Warm-up coaching points
GC2 custom fitting technogly
Video analysis
Club distance analysis
Golf ball fitting
*£50 package fee refund & W.G.A goody bag upon placement of order
Putter
30 minute appointment includes
£20
Fitting your ideal putter
Video analysis
Golf ball fitting
*£15 package fee refund & W.G.A goody bag upon placement of order