New Custom Fit Service at the Academy
We're excited to reveal our brand new custom fit wall as part of our golf shop refurbishment!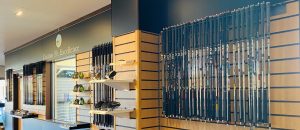 Our philosophy at Winchester Golf has always been that to get the most out of your game, a set of custom fit clubs is essential. And our new approach is to offer you the very latest and the very best components from TaylorMade, Callaway and Ping so that we can build bespoke clubs for your swing.
No matter if you are an accomplished player or a beginner, selecting the right set of clubs is one of the most important decisions you will ever make towards improving and enjoying your golf.
We fit everything from the tee to the green, and we have 5 different fitting packages that range from a putter fitting that lasts 30 minutes to a full bag fitting that lasts 2 hours. If you're short on time, we even offer a brand new express custom fit.
If you have any questions about custom fitting, would like to learn more, or would like to book an appointment, talk to any of our Winchester Golf Academy team members or call us on 01962 885254.